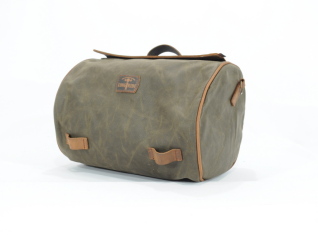 roller bag
roller bag fits these models:

Find my bike
To overview of all products
Order this Heritage saddle bags
Longride heritage rollerbag made in waxed canvas with polyesther waterproof linning.A zipper is fixed under the leather flap on top.
Delivered with 2 elastic binders and shoulderbelt. The elastic binders do fit as wel on top as on the botem af the bag.
An extra waterproof innerbag is available: CWT 003
If there are no fixing points, we can suply extra velcro straps for tubes of 25, 30 and 40mm. ref CST 25/30/40. Details also on this website.
Size: 38 x diam 28 cm
Volume: 17,2 Ltr.