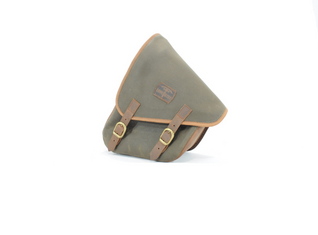 single side swingarm bag
single side swingarm bag fits these models:
Find my bike
To overview of all products
Order this Heritage saddle bags
Single sided heritage swingarmbag made of waxed canvas, finished with aged leather. The dubbing is made in a waterproof polyesther linning.
The bag fits direct to the swingarm with 4 leather straps.
size: 30 x 37 x 14 cm
Volume: 7,6 Ltr.