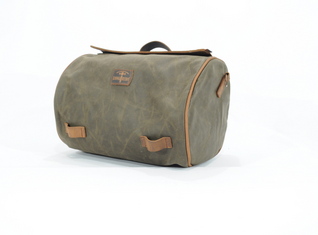 Find my bike
To overview of all products
Order this Sportbikebag
Heritage smalll rollerbag.
Equiped with a leather handle and a detachable adaptable schoulderbelt.
The bag is dubbed with a polyester linning. On demand we can deliver a watertight innerbag.
The bag is delivered with 2 elastic straps to fit to the bike.
If you do not have fixing hooks, we can deliver fixing rings to wrap arround your tubes.
Size: 38 x 28 cm
Capacity: 17,2 Ltr
Part Nr: CUS 138 W KHA