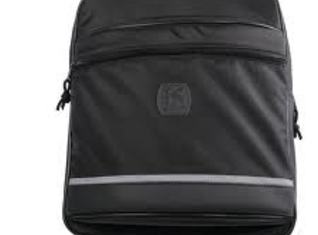 Find my bike
To overview of all products
Order this Sissybar bag
This rigid bag is made of watertight nylon 840D with pvc coating. It has a big outside pocket and reflective safety strip on the front. The padded backstraps can be hidden in the rear zipper pocket.
It is fixing on the sissybar with 3 elastic velcro loops and a safetybelt.
A padded cover of the straps highers the comfort when carried on the back.
3
Size: 34 x 45 x 20 cm
Capacity: 33 L