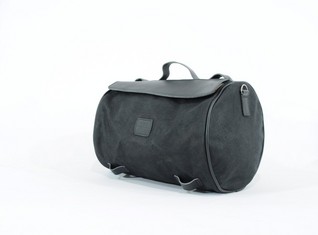 Roller bag
Roller bag fits these models:

Find my bike
To overview of all products
Order this Heritage saddle bags
The small heritage rollerbag from Longride is made of strong waxed canvas and real leather.
The leather we use is a vegetable tanned cowhide form European origine.The canvas is threaded against water and dirt with a wax coating, similar to the yacht jackets.
The bag is delivered with a detachable shoulderbelt and 2 elastic binders to hook the bag to you bike.
If you do not fixing points on your bike, we can deliver extra fixing straps for tube frames of 25, 30 and 40mm. These are our ref. CST 025 , CST 030 and CST 040.
As an extra you also can have a watertihgt taped innerbag , ref. CWT 003
Size: diameter 28cm x 38cm
Volume: 17.2 Ltr.