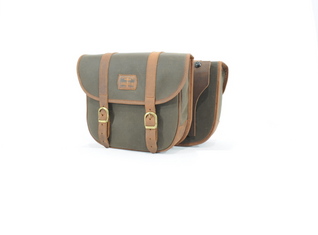 heritage saddlebags
heritage saddlebags fits these models:
Find my bike
To overview of all products
Order this Heritage saddle bags
Pair of heritage saddlebags made in waxed cotton, finished with real aged leather. Dubbing made of waterproof polyesther linning.
For 100% waterproof, we can deliver as extra the innerbag ref CWT001.
Fixed to the bike with detachable lockable flaps? This flaps can be locked with a padlock to the bags.
Please check the bags can not touch any vital part of your bike and can not touch the wheel, if so use a distance holder.
size: 29 x 26 x 12 cm
Volume per pair: 16 Ltr.