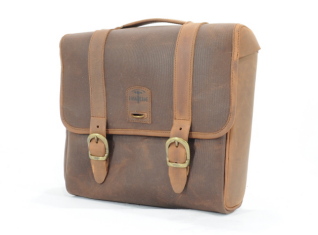 single side universal heritage bag
single side universal heritage bag is a universal universal saddlebag
It will fit most bikes.
See all universal bags
Find my bike
To overview of all products
Order this Universal saddlebag
This heritage saddlebag is made of heavy waxed canvas finisched with vegetable tanned cowhide. The genuine leather is oiled through the hide. The bag is sold per piece. The universal real leather flap is detachable. The bag can be locked even as the bag to the universal flap. A spring handle and side pocket is on the bag.
Size: 29 x 26 x 12 cm
Capacity: 16 Ltr
Part Nr: CUS 131 W BRO